Still thinking about the name - bot
Hi LMR, been thinking about this robot... for the chassis, i will be using a nitro car chassis, and going to bend it the shape i want, its 2mm pink anodized aluminium(they didnt give colour choices lol)
will be using the tamiya dual gearboxes, havent used them before, so if they aren't what i expect i'll will have to get something else xD 
here's some skecth uping of what i expect to have:
The base: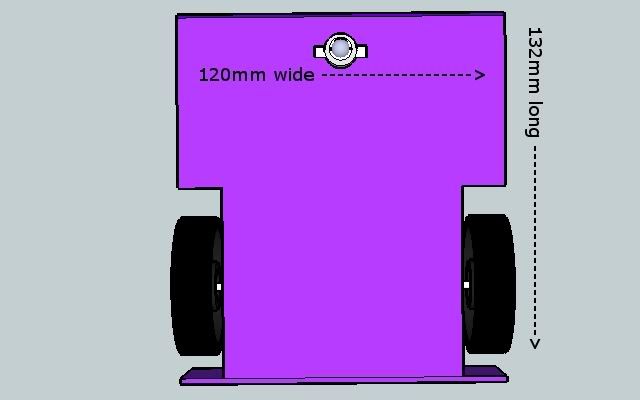 Above the motors i intend to have some of the electronics, and other electronics on the vertical metal plate
i still have to move things around to fit the a battery pack, when the gearboxes arrive, i'll see that better, other option is the battery back vertically behind the wheels.
is there a problem in having the electronics near the motors?
is there a way to overcome that problem without moving them somewhere else?
also, this being aluminium, will it break if i bend it?
right now its completely flat, i dont want to start bending without being certain of the size of the gearboxes.
Will update as soon as the stuff arrive :) 
The stuff finally arrived!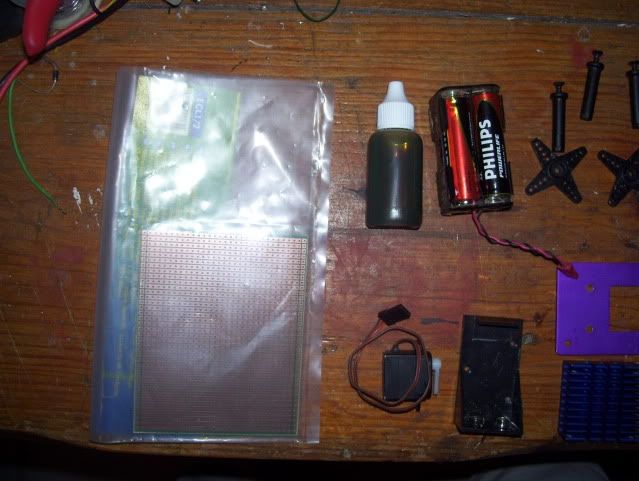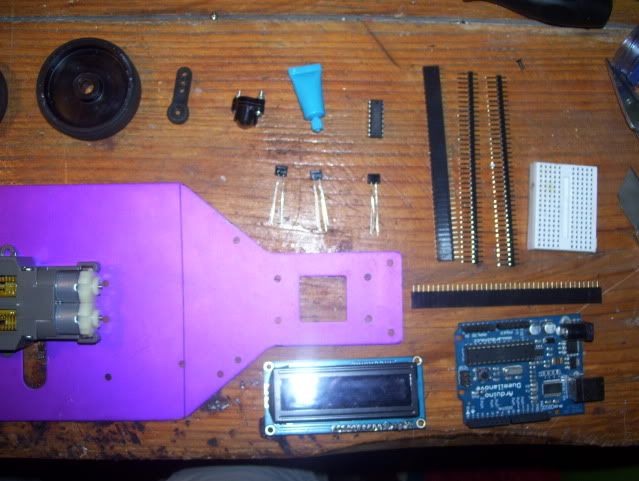 So what i want to do is make a barebones arduino, and the motor driver in the same PCB, and then stack other circuitry on top of that, with the male/female headers, the normal arduino board will just be used to drive it around before i go any further, i'm gonna make some polymorph adaptors so that the wheels fit nicely on the gearbox, and tomorow i will bend and cut the chassis!
wheels are secure :D
here´s a nice out of focus picture: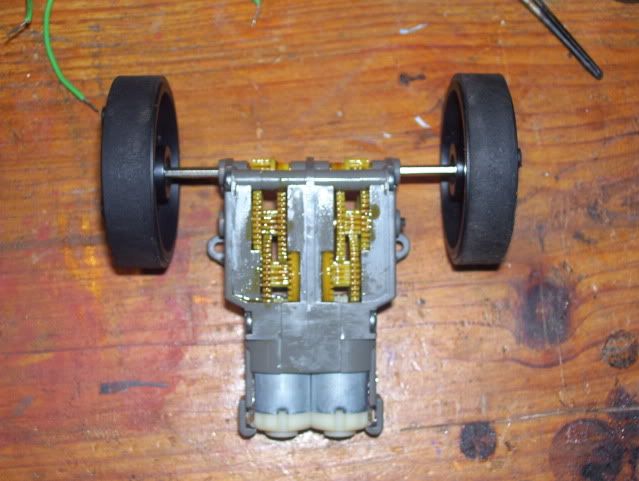 the LCD will be used for debugging the line folower, not sure if it will remain in the finished version... 
and the ano blue heat sink just happened to be there lol.
Will post more tomorow, or the day after.
I also need a better name... 
chassis is bent, and cut!
fitted the gearbox, and the ball castor. 
 Not perfectly bent, but i wasn't exepcting it to get much better, there are still a few things that need tweaking, but all and all, seems good. 
here's how he looks now: