Morpheus (rev 1.00a)
Morpheus is a dual processor Propeller based single board computer with special features designed for my upcoming Largos operating system - but it will run just fine even before Largos arrives

The primary markets for Morpheus are:
Education (including teaching electronics, computer design, OS design)
Industrial Control (including "Swiss Army Knife" for consultants, engineers and hobbyists)
Additional markets for which Morpheus is very appropriate:
Emulation of older consoles, computers, arcade machines (ZiCog, MoCog, and others)
Smart terminals
Morpheus is currently available as a bare PCB, kits (including sockets and all the parts) will be available in approximately one week.
Assembled and tested units will be available for sale in two to three weeks.
Morpheus Parts List and PCB cross
Features:
CPU #1:
"Designed for Largos" which has its root file system on an SPI flash chip and has an SPI ram chip for an edit buffer
I2C boot EEPROM
I2C Phillips PCF8563 Real Time Clock
P0-P7 available for I/O expansion on ProtoBoard compatible 10 pin header
Compatible with SpinStudio modules from ucontroller.com except for the "Game Stacker"
P8-P11 normally used for 32KB SRAM or FRAM, required for Largos
P12-P15 for WinBond or compatible 4K page erasable FLASH, available up to 8MB (64Mb) in capacity, required for Largos
P8-P15 may optionally be used to provide a second ProtoBoard compatible header if the SPI memory is not populated
PS/2 Keyboard support (demo board compatible)
PS/2 Mouse support (demo board compatible)
Line level stereo audio out (may be used as two DAC's for other purposes)
DC input via pads for a two pin screw terminal block
space for 5V voltage regulation based on 7805
space for 3.3V regulation based on LM1117 or AS2810 3.3V regulators
Dual filter capacitor support (standard .1uF ceramic, and tantalum/electrolytic capacitor support as per Saphiea's findings)
4 bit bus connecting to CPU #2
controls RESET line of CPU #2
can optionally drive XINPUT of CPU #2 from dedicated I/O pin instead of crystal (dial-a-cpu-frequency)
PropPlug compatible programming header, adds optional fifth pin for 3.3V
CPU #2:
4 bit bus to CPU #1 on P28-P31
normally loaded by CPU #1
optional Prop plug compatible 5 pin programming header
optional EEPROM socket for independent boot
512KB 32 pin DIP SRAM socket
24 bit address / 8 bit data FULL EXPANSION BUS ON 40 PIN HEADER
VGA support, build time option for 64 color Parallax compatible mode or extended 256 color mode
working 1024×768 4 color driver, I am adding individual palette entries for each scan line
COMING SOON: 256×192 256 color per pixel gaming mode (expected in 1-2 weeks)
Sprites will be added after initial gaming driver release - 16×16 pixels, 256 color palette
working burst read speed: 20MB/sec at 80MHz (requires 3 cogs)
working burst write speed: 20MB/sec at 80MHz (requires 3 cogs)
can switch "pages" in as little as three instructions
selecting a different address within a page takes one instruction
easy to use 10MB/sec mode with random access within a 256 byte page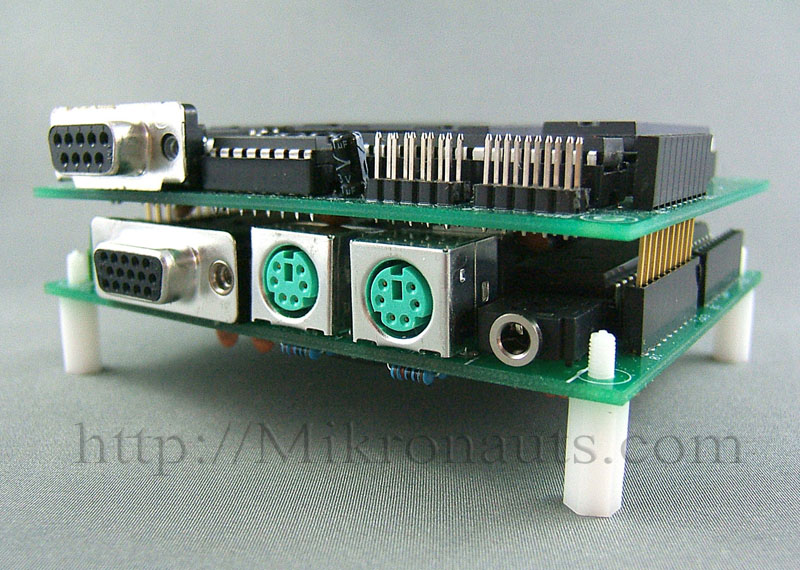 The 6.25MHz crystal configuration for operation at 100MHz has not been tested yet, and will need faster memory devices to obtain a 25MB/sec burst rate.
If I there is sufficient interest, and people pre-order boards, I am willing to produce a surface mounted 8MB static ram board addressed at $800000-$FFFFFF which would increase the memory capacity to 15.5MB of ram for one Morpheus board.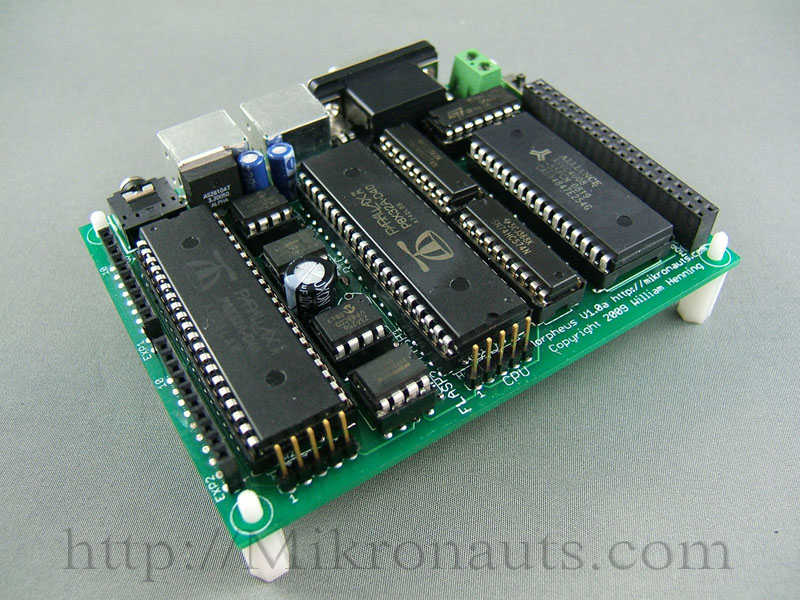 ALL BOARDS are 4.0″x3.05″ with mounting holes matching Parallax standards
Morpheus is compatible with Ethernet, joystick, and other SpinStudio expansion boards from ucontroller.com
Pricing and Availability
Morpheus is $29.95 USD + shipping and handling for a bare PCB
Mem+ is $24.95 USD + shipping and handling for a bare PCB
Bundle of Morpheus and Mem+ bare PCB's is $49.95 USD + shipping and handling
School Board pricing will be announced shortly
There is a limited stock of Morpheus and Mem+ PCB's available right now, next batch is not due until early August.