burnt md23 :(
Ok, i burnt my brand new 50€ worth MD23 motor controller. I'm deeply desperate... I was all excited about its arrival with all the RD01 kit, i was all happy about the incoming testing and building and having fun with it, when suddendly all the magic smoke came out of it and dispersed for good. :(
BWAAAAAA :( i'm so saaaad :(

Sniff, ok.. So i'd like to at least have some idea of what happened, becouse i have none.. How can it happened ?
This is the chip that smoked: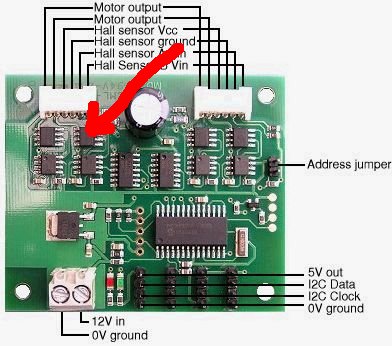 what is is ?
I was normally feeding the board with 12V for motors (logics use 5V, with internal regulator), i connected the SDA and SCL of the arduino and MD23 together.
The only strange thing i did was connecting the ground of the MD23 to the ground of the Arduino. Is it wrong? It wasn't working without it, and when i connected it worked for some time before smoking out. I did it becouse it was not communicating properly throu i2c, i thougt that maybe it wasn't able to drain the line or something like that (the lines are pulled up).
Did i lost my mind? If i have two board communicating with i2c, each with its own power source, should it be enought to just connect SDA and SCL, or also ground or 5v or anything?
Or what else could have gone wrong ?

Ok.. thanks everybody.. i'm going back to my sorrow..