32 servo controller / arduino sample code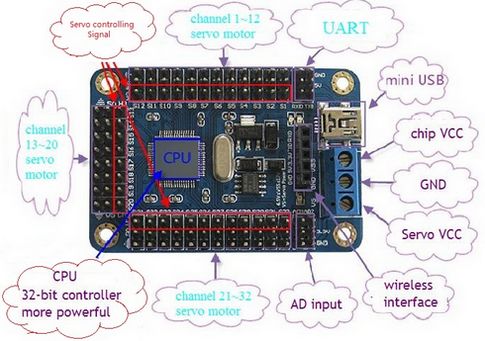 I wonder if any LMRtians use this servo board before. Got this one long time ago but haven't use it since SSC-32 works pretty good and I thought this board probably works the same way. Unfortunately, it's not. I have connect RX/TX to Arduino but the code doesn't work at all. The manual doesn't provide any sample code for Arduino but someting like:
\ n \ r = Binary number 0x0d, 0x0a (carriage return), the command terminator
# 8P600T1000 \ n \ r
I have no idea how this works for Arduino. Maybe a special library needed for this servo board? BTW, I am not hardcore programmer or Technician so if anyone could help on this one with simple code? Much much appreciated in advance.
http://www.elechouse.com/elechouse/index.php?main_page=product_info&cPath=100_146&products_id=1883
The manual attached.