Mobile Robot Arm
I made this CAD in Google Skechup after I had an epiphany. I thought this would be a really cool idea, and would give me some good experience.
Here is how it will go:
 It will use 1/8inch Sintra, simialer to PVC
The Servo brackets will either  be custom made from bigbluesaw.com or pre-made from Lynxmotion.com
The gripper itself will also, either be homemade from aluminum or bought.
On the gripper, the actuator of the gripper itself will either be a regular DC motor with a Motor Controller or a Micro Servo (HS-81) Most likely the latter.
I will be using my custom Atmega8 MCU Board, which has fourteen servo connection ports.
Taken with my webcam so please excuse the crapiness
And I made an AVR Programmer from a kit from adafruit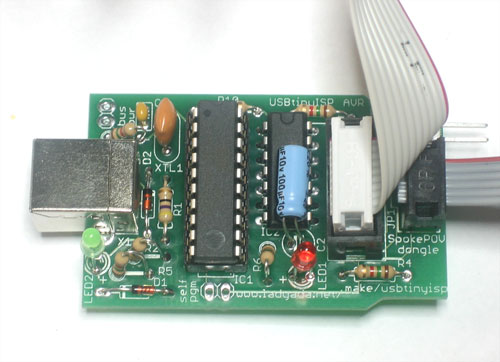 I am aiming to use all eight servos as  hs-475hb servos because they are cheap and sturdy (~$15).
It will be controlled via Bluetooth from the UART connection on the Atmega board to a nearby laptop with a Bluetooth USB Dongle.
Eventually I will find a suitable wireless webcam, and skin the plastic off and mount it on the bot.
Does anyone have any reccomendations as to the accessories of this robot? (motors, servos...)